Within any Workspace you can view and manage all payments by clicking on the "Payments" section in the navigation menu.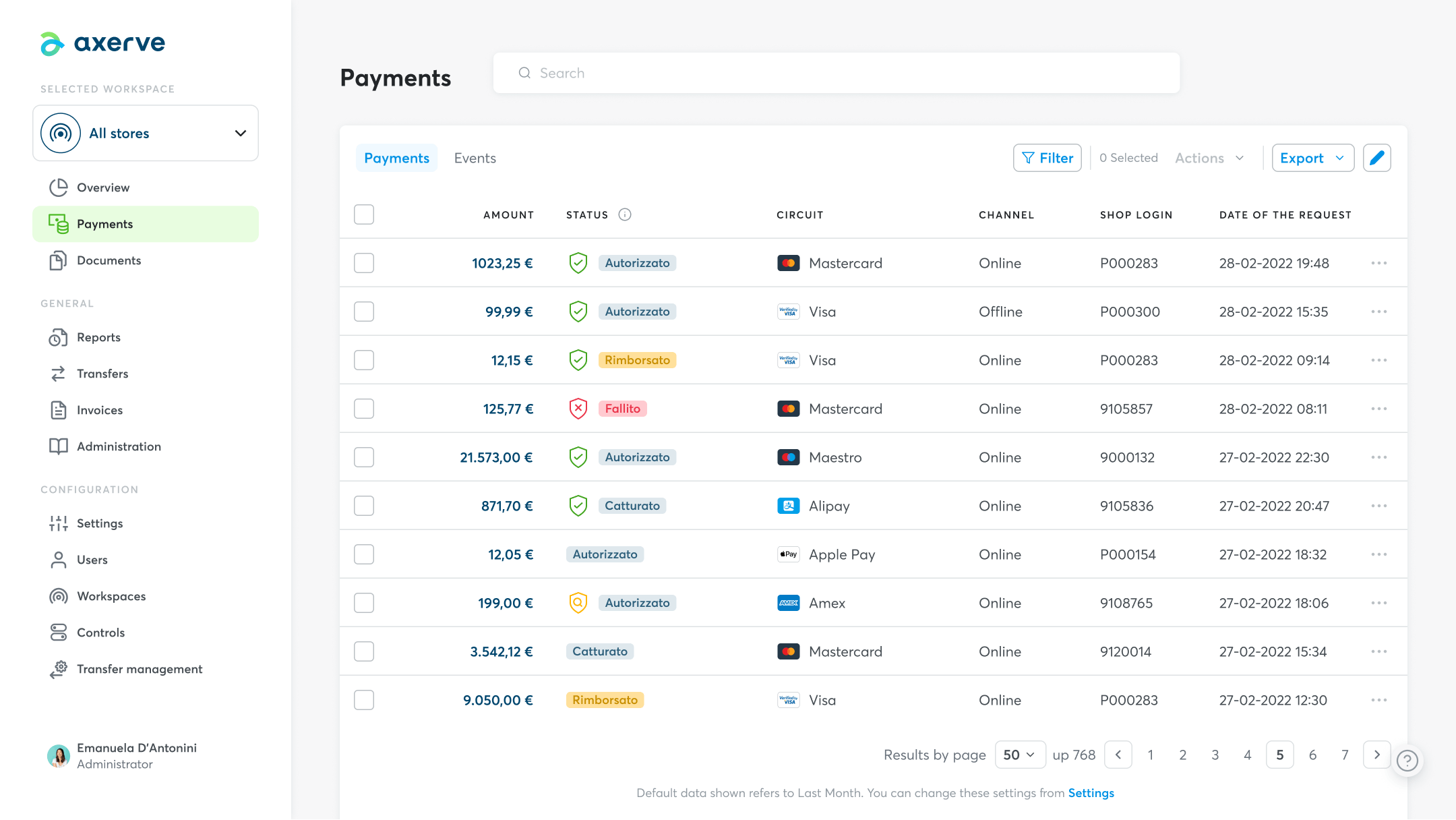 In this section you can find the Search bar that allows you to search for specific payments by applying filters, such as method, circuit, payment status etc.
By clicking on "See suggestions" you can also view all the search keys.
The first tab available in this section is called "Payments" and contains the following information:
AMOUNT
The amount of the authorized payment.
STATUS
The payment status.
CIRCUIT
The payment card circuit.
CHANNEL
The payment channel.
SHOP LOGIN
The unique code that identifies the store or service associated with it.
DATE OF THE REQUEST
The date when the payment was authorized.
Additional information in the columns of the payment list are divided by categories, and can be selected and inserted in the list by clicking on the pencil symbol at the top right of the page.
This page displays either all payments or those corresponding to the applied filters in chronological order, it is also possible to create exports (in .xlsx, .csv and .txt formats) by clicking on the "Export" button.
After clicking the "Filter" button, a window opens, in which custom filters can be defined. If you want to learn more about this section, click on RAPID FILTERS.
By clicking on the 3 dots to the right of each payment, depending on the type of user authorization, you can either only view the breakdown of the payment or cancel, capture or refund a payment and download the "Client PDF" and the "Complete PDF".
Finally, for each payment, you can view all the data relating to the list in chronological order (Events) of the various payment statuses by clicking on the arrow next to each individual status.